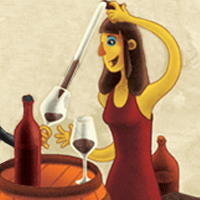 101 VIGNERONS
Portugal and Spain
RESTAURANTS
Signature Cuisine
22 – 25 FEV 2024
Alfândega | Porto
what is simplesmente… Vinho?
simplesmente… Vinho is a salon off, an independent and alternative wine festival, which unites vignerons simplesmente … for the wine. Wine that respects the territory and the terroir, the vine and the grapes, people and traditions. Wine that simplesmente … wants to be wine, drunk, enjoyed, shared. Sincere wines with a healthy dose of madness and poetry.
In the eleventh edition, this February 2023 (Friday 24th, Saturday 25th and Sunday 26th), we are back in winter and we are close, really close, to our beloved Douro river, at Alfândega do Porto. You already know, we can't do without roots and traditions and new emotions and we found all of this simplesmente… in the historic building of Alfândega do Porto.
In 2018 we were simplesmente… Forest. We joined forces with Quercus to promote a better (rural) world and help mitigate the effects of the dramatic forest fires of 2017. In 2019, we were simplesmente… Brazil. In 2020 we headed to the USA with Joe Swick. In 2021, due to the COVID-19 pandemic, we became 100%PT. And in 2022 we bring Spain back (even) closer.
In 2023 we tried to be Ukraine, the war was, IT IS, too strong. In our book you will find ways to support Ukrainian vignerons.
The simplesmente… Special Guest is La Biancara di Angiolino Maule. Angiolino is a pioneer and visionary of Italian, European, Planetary natural wine. VinNatur and Villa Favorita are two decisive milestones in the current Mondovino revolution.
Finally, in 2023, we also pay tribute to women, we are vignerons… always Vigneronnes.
The eleventh edition of the salon off Porto features 100 (+ 1) vignerons from Portugal and Spain, and +1: La Biancara from Italy.
In addition to wines, there are petiscos (portuguese tapas) from wine-loving restaurants at the simplesmente… Petiscaria. Yes, because there's nothing better than friends and good petiscos to enjoy sincere wines. Since 2018, we have a food court so you can simply… have dinner with us, or have lunch on Sunday 26th!
At simplesmente…Wine Bar, this year we have the bartenders of Natwine Aficionados.
Our curator, Karlown brings the art show: In the vicinity of the roses, a nest of astrolabes, 12 artists from Minho to the Algarve.
Icing on the cake, oops, orange seal on the curtimenta bottle, 4 bands in 3 days: The Suma Music, THEMANUS, Álvaro and his Band, and Kiko & the Blues Refugees.
simplesmente… Vinho:
Wines, Petiscos, Art and Music to share with Friends, You!
Everything simplesmente… waiting for you at Alfândega do Porto!
PORTUGAL  +  ESPANHA +
LA BIANCARA
Daily ticket (early-bird): € 22 (includes official glass and book, sincere wines tasting, art exhibition and live music).
info@simplesmentevinho.pt