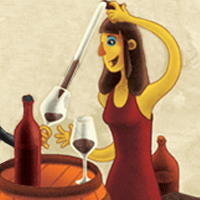 101 VIGNERONS
Portugal and Spain
RESTAURANTS
Signature Cuisine
1, 2 & 3 July 2022
FAUP | Porto
what is simplesmente… Vinho?
simplesmente… Vinho is an "off" salon, an independent and alternative wine festival, which unites vignerons simplesmente … for the wine. Wine that respects the territory and the terroir, the vine and the grapes, people and traditions. Wine that simplesmente … wants to be wine, drunk, enjoyed, shared. Sincere wines with a healthy dose of madness and poetry.
In this tenth edition, we keep embracing the summer warmth and the bright open air of the gardens of the Casa Cor de Rosa of the Faculty of Architecture of Porto (FAUP), on the first weekend of July. You know, we need the Douro river, we do not live without roots and traditions, stone pavements and new emotions and we simplesmente… found all this… at FAUP.
In 2018 we were simplesmente… Forest. We joined forces with Quercus to promote a better (rural) world and help mitigate the effects of the dramatic forest fires of 2017. In 2019, we were simplesmente… Brazil. In 2020 we headed to the USA with Joe Swick. In 2021, due to the COVID-19 pandemic, we became 100% PT (or almost…). And in 2022 we bring Spain (a tad) closer to us again.
The tenth edition features 101 vignerons from Portugal and Spain
In addition to the wines, there are petiscos (portuguese tapas) from wine-loving restaurants at the simplesmente… Esplanada. Yes, because nothing better than friends and good petiscos to savour sincere wines. In 2018, we created a food court so you could just… have dinner with us. And in 2019 and 2020, so that no one goes dry, Os Goliardos brought us a great wine bar. In 2021, given the limitations, we created simplesmente… Brunch, oops, naturalmente… Brunch that we repeat this year on Sunday 3, from 12pm to 2pm.
FAUP's management organizes an exhibition of Architecture focused in the universe of wine.Supplemental energy.
"The relationship between nature and construction is decisive in architecture." (Álvaro Siza)
So, for now, we stay simplesmente… on the nature of Porto. See you at the FAUP gardens?
Daily ticket: 20€ (includes official glass, wine degustation, catalog and live music)
info@simplesmentevinho.pt