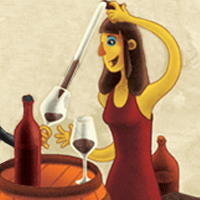 101 VIGNERONS
PT | ES | FR | USA
3 RESTAURANTS
Signature Cuisine
21 & 22 FEB 2020
Cais Novo | Porto
what is simplesmente… Vinho?
simplesmente… Vinho is an "off" salon, an independent and alternative wine festival, which unites vignerons simply … by the wine. Wine that respects the earth and the terroir, the vine and the grapes, people and traditions. Wine that simplesmente … wants to be wine, drank, appreciated, shared. Compelling wines with a healthy dose of madness and poetry.
In this eighth edition, simplesmente… Vinho stays at home. We need the Douro river, we can't go on without roots, traditions, history, sidewalks, old walls, new emotions and simplesmente… we find all this (again) @ Cais Novo.
In 2018 we were simplesmente… Forest. We joined forces with Quercus to promote a better (rural) world and help mitigate the effects of the dramatic forest fires of 2017. In 2019, we were simplesmente… Brasil with Marina Santos and Israel Dédea (Vinha Unna). In 2020 we'll stay, with or without impeachment, in America, Joe Swick & USA. Just wait and see.
The eighth edition counts on the presence of 100 + 1 vignerons from Portugal, España, France and a special guest from USA. Real, terroir driven, authentic wines.
In addition to the wines, there are petiscos (portuguese tapas) from 3 wine-loving chefs. Yes, because nothing better than friends and good petiscos to savor sincere wines. In 2018, we created a food court so you can simplesmente… have dinner with us. New in 2019, Os Goliardos ran a great wine bar to make it even tastier. We repeat all of it, so put on the agenda: "21 and 22 Feb, dinner at simplesmente… Vinho", okay?
Nuno Pinto Leite, from the gallery Ela Vai Nua, is the curator of the art exhibition. Five artists, complicit and complementary. Energy from the walls to the glasses. And as usual, each of the two days ends with a great musical concert: Feb 21- Thee Magnets, 22- The VineRoots Jam Session.
That's it. "Invitation made, deal done. I drop the mic". See you at Cais Novo?
USA  +  ESPAÑA  +  PORTUGAL  +  FRANCE
The eighth edition features 101 vignerons, from USA, España, Portugal and France that can be paired with the petiscos (portugese tapas) by three wine-friendly restaurants.
Nuno Pinto Leite is the curator of the art exhibition, re-shaping Cais Novo as a gallery.
It's a tradition, each night ends with a live musical gig.
After Brasil, the USA are the special guest, a rock'n'roller, oops, a vigneron from Oregon & Washington state is in Porto to show that Parkerization is over.
Ladies & Gentlemen please welcome Joe Swick & Swick Wines!
Daily Ticket € 20 - includes the official wine glass and catalog, wine tasting, art exhibition and live music concert.
€ 3 or € 5 for Petiscos at the 3 participating restaurants and for wine at the NEW winebar run by the famous Os Goliardos (Lisboa & Barolo). Food court, both seated and on the counter, for dinning on site.
Friday, February 21, there is a Pop-Up dinner with chef Leopoldo Garcia Calhau at Typographia Progresso. More information on facebook.

Cais Novo, Rua de Monchique, nº120 - Porto, Portugal
info@simplesmentevinho.pt